Regular price
€0,00 EUR
Sale price
€10,00 EUR
Unit price
per
Sale
Sold out
As palavras cuidam, as palavras magoam. As palavras são armas e armaduras. São sinais de força e alertas de desalento. São a realidade imaterial que toca no nosso coração, até porque pouco nos influenciará mais do que a palavra certa, quando proferida no momento certo. É a todas essas palavras que dedicamos a mais recente edição da Vogue Portugal. The Quote Issue é uma homenagem às grandes citações da história, e a quem nos completou para que nunca nada ficasse por dizer.
-----


Words nurture, words hurt. Words are both weapons and armors. They are signs of strength and admonition of dismay. They are the immaterial reality that touches our hearts, especially since there's little that holds as much power as the right word, said at the right moment. It's to all of those words we dedicate this issue of Vogue Portugal. The Quote Issue is a homage to all the biggest quotes throughout history, and to all of those that have completed our sentences so there was nothing left to say.
English version available on all articles through QR codes
Shipping information
Share
View full details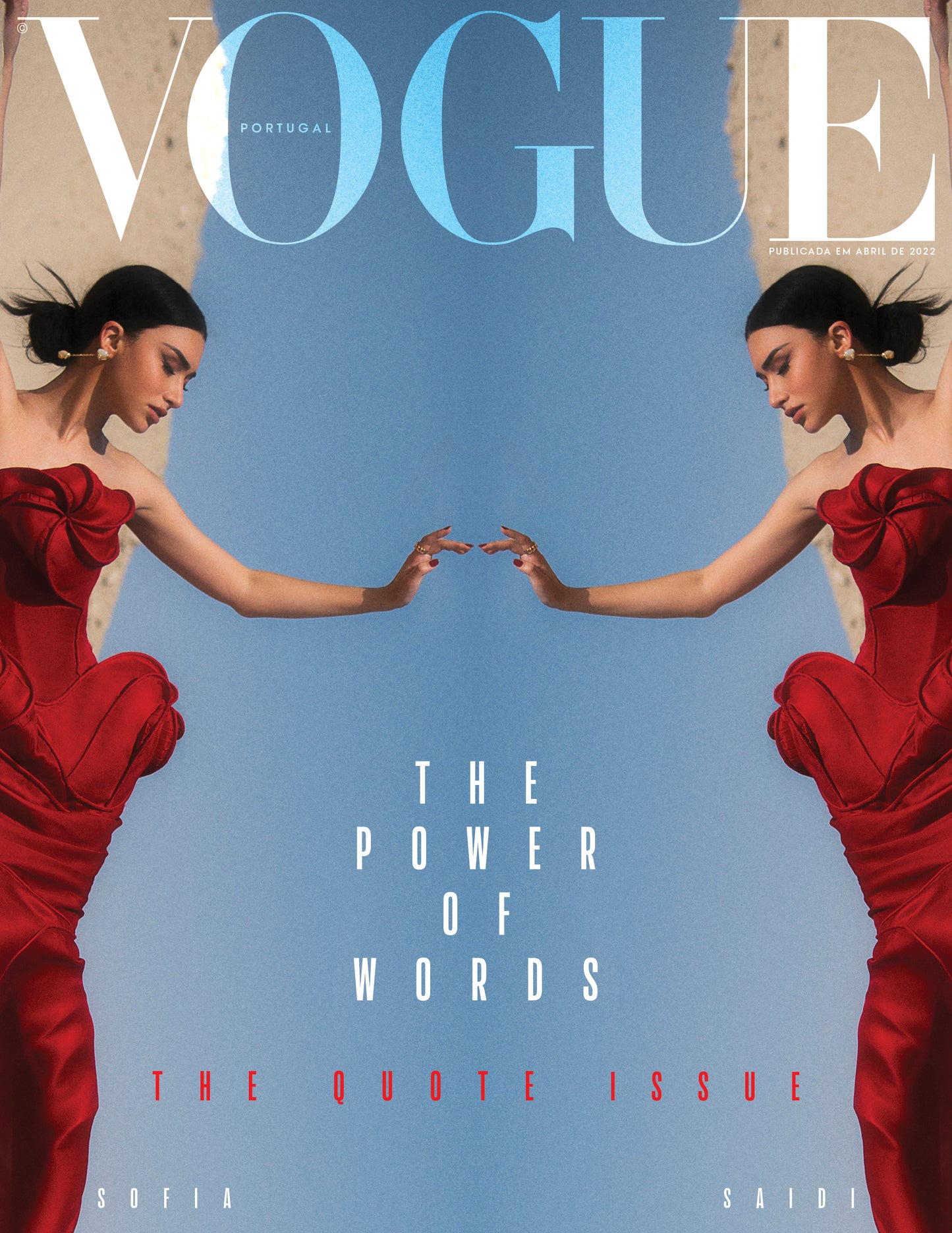 Shipping
Delivery rates are calculated at checkout based on order weight, size and value. 
Free shipping applies to:
Portugal (mainland and islands) and Spain mainland on orders over €20.
Not available to subscriptions. 
Alternatively, we offer free Click and Collect for those based in Lisbon.

We ship worldwide. If there are no available shipping rates for your address, please contact us.
-- PT --
Custos de envio calculados no checkout, baseados no peso, volume e valor da encomenda. 

Portes grátis para: 
Encomendas de valor superior a 20€ para Portugal (continente e ilhas) e Espanha continental.
Não aplicável nas subscrições. 
Em alternativa, oferecemos recolha gratuita em Lisboa, na nossa loja.

Fazemos envios para todo o mundo. Se não conseguir enviar para a sua morada, por favor contacte-nos.