Regular price
€0,00 EUR
Sale price
€0,00 EUR
Unit price
per
Sale
Sold out
#ThePleasureIssue
"Nada é mais simples que o prazer", terá dito o poeta e dramaturgo Jean Cocteau. É assim que resumimos o protagonista da edição de maio da Vogue Portugal, o hedonismo. Conhecido universalmente como "a busca do prazer", o hedonismo é uma corrente filosófica complexa, que vai muito além de só fazer aquilo de que se gosta. Não sendo possível entrevistar o seu fundador, Aristipo de Cirene, por motivos óbvios, escolhemos a via mais óbvia: explorar o conceito que criou em (quase) todas as suas vertentes: estética, ética, filosófica e psicológica. É possível que, no final destas 288 páginas, até os mais descrentes se convertam a este modo de vida. 
---
#ThePleasureIssue
"Nothing is simpler than pleasure", the poet and playwright Jean Cocteau reportedly said. This is how we summarize the protagonist of the May issue of Vogue Portugal, hedonism. Universally known as "the pursuit of pleasure", hedonism is a complex philosophical current that goes far beyond just doing what one likes. Since it is not possible to interview its founder, Aristippus of Cyrene, for obvious reasons, we chose the most obvious route: to explore the concept he created in (almost) all its aspects: aesthetic, ethical, philosophical and psychological.  It is possible that, at the end of these 288 pages, even the most skeptical will be converted to this way of life.
Shipping information
Share
View full details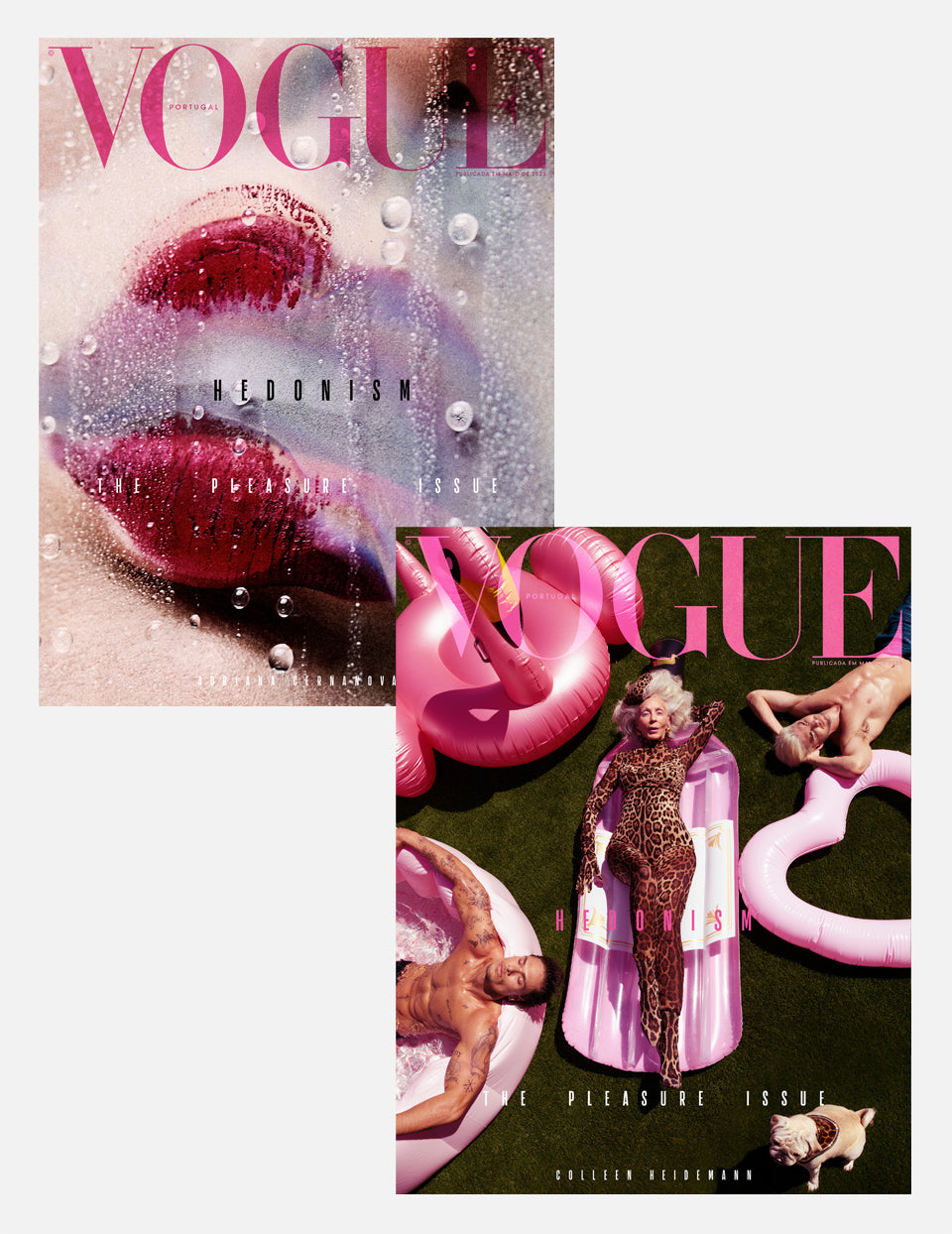 Shipping
Delivery rates are calculated at checkout based on order weight, size and value. 
Free shipping applies to:
Portugal and Spain mainland on orders over €15.
Alternatively, we offer free Click and Collect for those based in Lisbon. 

We ship worldwide. If there are no available shipping rates for your address, please contact us.
-- PT --
Custos de envio calculados no checkout, baseados no peso, volume e valor da encomenda. 

Portes grátis para: 
Encomendas de valor superior a 15€ para Portugal e Espanha continentais. 
Em alternativa, oferecemos recolha gratuita em Lisboa, na nossa loja.

Fazemos envios para todo o mundo. Se não conseguir enviar para a sua morada, por favor contacte-nos.