Regular price
Sale price
€0,00 EUR
Unit price
per
Sale
Sold out
"We are beautiful, no matter what they say". In an issue dedicated to "Every Body", to have Christina Aguilera as a cover is more than fitting. The singer has been a face for female empowerment and self-love, leading by example by owning up to her own struggles and overcoming them. Hers alongside ours, with hymns to diversity and inclusion such as Beautiful. It's also about that Xtina talks about in this Body Issue, from Vogue Portugal, one that celebrates differences as much as equality and that, at the same time, doesn't shy away from current events. We are all different (some)bodies, but equal in our core and common goals. Those of Peace, Freedom and Inclusion. 
------
"We are beautiful, no matter what they say". Numa edição dedicada ao corpo, ter Christina Aguilera a dar a cara é mais do que apropriado. A cantora tem sido um rosto pelo empowerment e amor-próprio feminino, liderando pelo exemplo ao assumir as suas próprias inseguranças e ultrapassando-as. As suas ao lado das nossas, com hinos como Beautiful. É também disso que fala em The Body issue, da Vogue Portugal, uma edição que celebra as diferenças tanto quanto a igualdade e que, ao mesmo tempo, não fecha os olhos aos eventos mundiais. Porque somos corpos diferentes, mas todos iguais na essência e objetivos comuns: da Paz, da Liberdade e da Inclusão. 
Shipping information
Share
View full details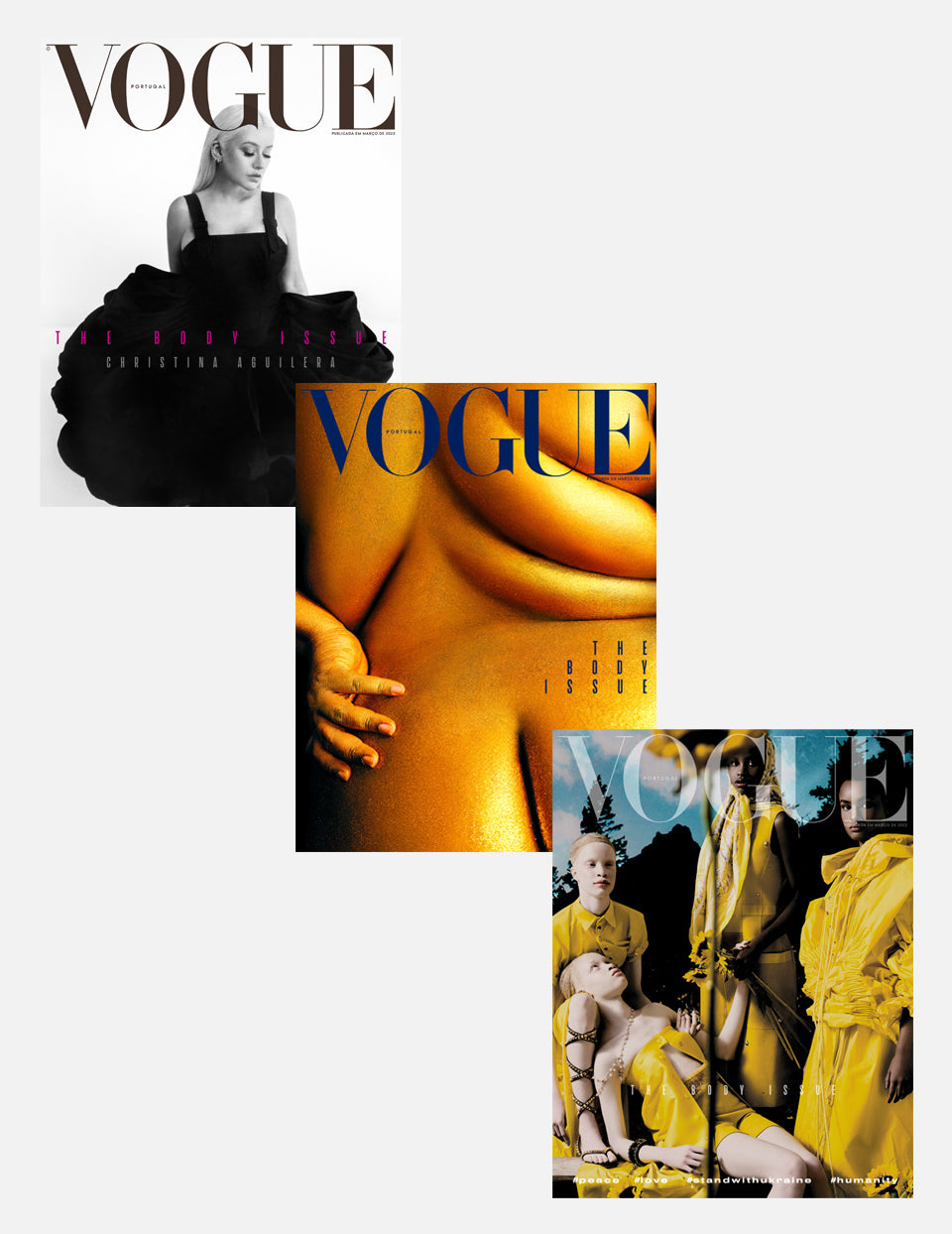 Shipping
Delivery rates are calculated at checkout based on order weight, size and value. 
Free shipping applies to:
Portugal and Spain mainland on orders over €15.
Alternatively, we offer free Click and Collect for those based in Lisbon. 

We ship worldwide. If there are no available shipping rates for your address, please contact us.
-- PT --
Custos de envio calculados no checkout, baseados no peso, volume e valor da encomenda. 

Portes grátis para: 
Encomendas de valor superior a 15€ para Portugal e Espanha continentais. 
Em alternativa, oferecemos recolha gratuita em Lisboa, na nossa loja.

Fazemos envios para todo o mundo. Se não conseguir enviar para a sua morada, por favor contacte-nos.