Regular price
€0,00 EUR
Sale price
€10,00 EUR
Unit price
per
Sale
Sold out
The Body Issue may be all about the body as the theme, but march cannot shy away from current events. The planet is united in solidarity towards Ukraine and this Vogue cover is no exception, covering the blue and yellow of the Ukrainian flag as a tribute to all of those fighting for their country, those fighting for someone else's country, fighting for your fellow human being, fighting for Freedom. A statement continuing within the issue, with the heartfelt testimonies of Vogue UA's team and Ukrainian artists about the break out of war, showing that there's only one side for this absurd conflict: that of Peace.
-----
Neste corpo que serve de temática ao número de março da Vogue Portugal, não se fecham os olhos aos eventos mundiais. O planeta une-se em solidariedade com a Ucrânia e esta capa da Vogue pinta-se de amarelo e azul, as cores da bandeira ucraniana, numa homenagem a todos os que lutam pelo seu país, pelo país dos outros, pelo próximo, pela Liberdade. Um estandarte que continua, dentro da edição, com testemunhos de elementos da equipa da Vogue Ucrânia e outros artistas conterrâneos sobre o estalar da Guerra, que quer mostrar que só há um lado neste conflito absurdo: o da Paz.
English version available on all articles through QR codes
English version available on all articles through QR codes
English version available on all articles through QR codes
Shipping information
Share
View full details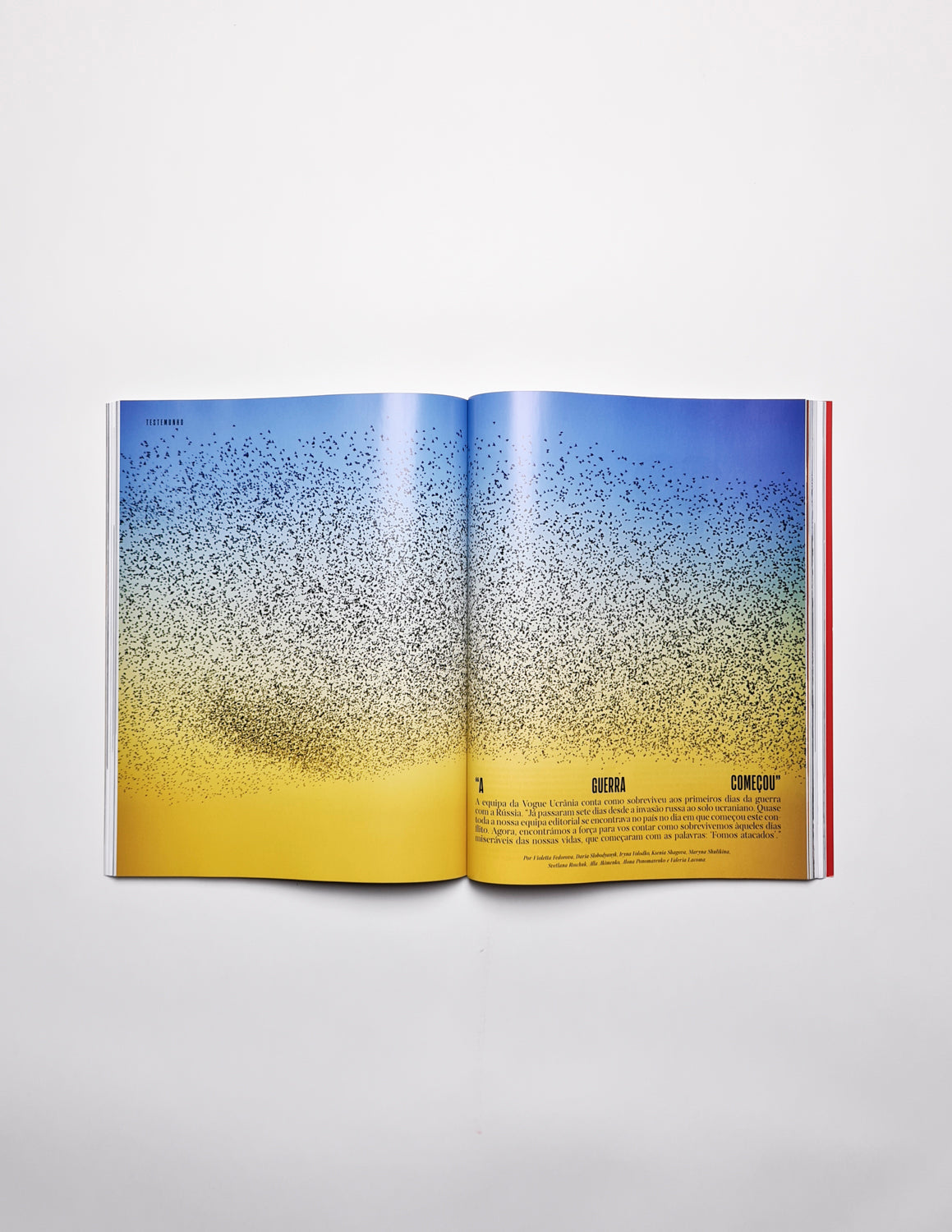 Shipping
Delivery rates are calculated at checkout based on order weight, size and value. 
Free shipping applies to:
Portugal (mainland and islands) and Spain mainland on orders over €20.
Not available to subscriptions. 
Alternatively, we offer free Click and Collect for those based in Lisbon.

We ship worldwide. If there are no available shipping rates for your address, please contact us.
-- PT --
Custos de envio calculados no checkout, baseados no peso, volume e valor da encomenda. 

Portes grátis para: 
Encomendas de valor superior a 20€ para Portugal (continente e ilhas) e Espanha continental.
Não aplicável nas subscrições. 
Em alternativa, oferecemos recolha gratuita em Lisboa, na nossa loja.

Fazemos envios para todo o mundo. Se não conseguir enviar para a sua morada, por favor contacte-nos.