Regular price
€45,00 EUR
Sale price
€31,50 EUR
Unit price
per
Sale
Sold out
Product Inventory
loading..
Este mês celebram-se dois anos do lançamento da edição Freedom on Hold. Dois anos do beijo que mudou o mundo, do beijo que nos mudou a nós, e que agora se vê materializado neste pack especial de aniversário.

Esta t-shirt comemorativa traz consigo um conjunto de stickers alusivos à edição de abril de 2020, tal como a própria revista e, ainda, dois posters com os protagonistas da capa.

—

This month marks two years since the release of Freedom on Hold. Two years of the kiss that changed the world, the kiss that changed us, and that is now materialized in this special anniversary pack.

This commemorative t-shirt comes with a set of stickers allusive to the April 2020 issue, as well as the magazine itself, and also two posters with the protagonists of the cover.
How to apply your sticker patch
1. Choose your garment and the place where you'd like to stick the patch. Make sure it's an area where you can iron the sticker patch easily.
2. Lay your garment on a flat surface like an ironing board or another surface that can withstand heat.
3. Position your sticker, with the adhesive part on the bottom, over the garment and, with a hot iron, press over the patch for a few seconds, then verifying if the patch is glued on. Press over again for a few seconds, if needed.
4. The patch is machine-washable, but make sure the garment is inside out.
5. If you prefer, for that extra resistance, after ironing you can also sow the sticker with some needle and thread to the garment.



T-shirt

- 100% CO organic cotton
- 100% portuguese
- tag by Haco
Shipping information
Share
View full details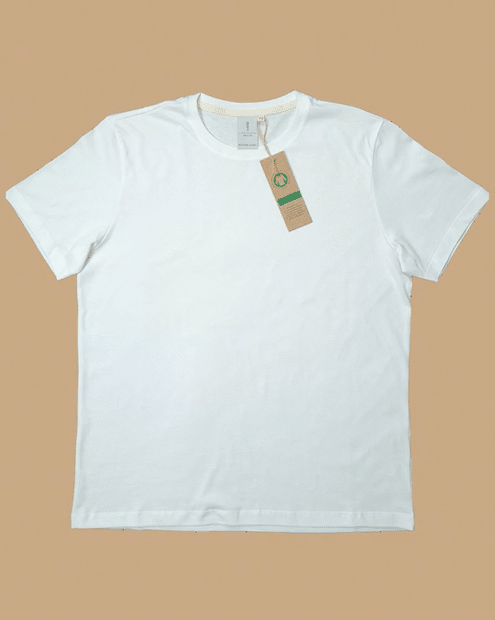 Shipping
Delivery rates are calculated at checkout based on order weight, size and value. 
Free shipping applies to:
Portugal and Spain mainland on orders over €15.
Alternatively, we offer free Click and Collect for those based in Lisbon. 

We ship worldwide. If there are no available shipping rates for your address, please contact us.
-- PT --
Custos de envio calculados no checkout, baseados no peso, volume e valor da encomenda. 

Portes grátis para: 
Encomendas de valor superior a 15€ para Portugal e Espanha continentais. 
Em alternativa, oferecemos recolha gratuita em Lisboa, na nossa loja.

Fazemos envios para todo o mundo. Se não conseguir enviar para a sua morada, por favor contacte-nos.