Regular price
Sale price
€0,00 EUR
Unit price
per
Sale
Sold out
A celebration is in order. Why? Because we have forgotten to do it and how. Because we let the worst of times stop us from seeing the better of life. Because we focused on a glass half empty instead of looking at it half full. Because we allowed social distancing deleted from our memories how to conjugate this much needed verb. This issue of Vogue is not (just) a celebration: it's a reminder of how badly we need to do it. With our friends and family or by ourselves, to commemorate life or oneself, a celebration is in order. As is the Celebrate Yourself issue of Vogue Portugal.
--
Celebrar é preciso. Porquê? Porque nos esquecemos. Porque deixámos que os piores tempos nos impedissem de ver o melhor da vida. Porque nos fixamos no copo meio vazio em vez do meio cheio. Porque permitimos que o distanciamento social nos apagasse da memória como se conjuga este verbo tão necessário. Esta edição da Vogue não é (só) uma celebração: é um lembrete sobre o quão precisamos de fazê-lo - com os amigos e família ou a solo, para festejar a vida ou nós próprios, celebrar é preciso. E o número Celebrate Yourself, da Vogue Portugal também.
English version available on all articles through QR codes
English version available on all articles through QR codes
English version available on all articles through QR codes
Shipping information
Share
View full details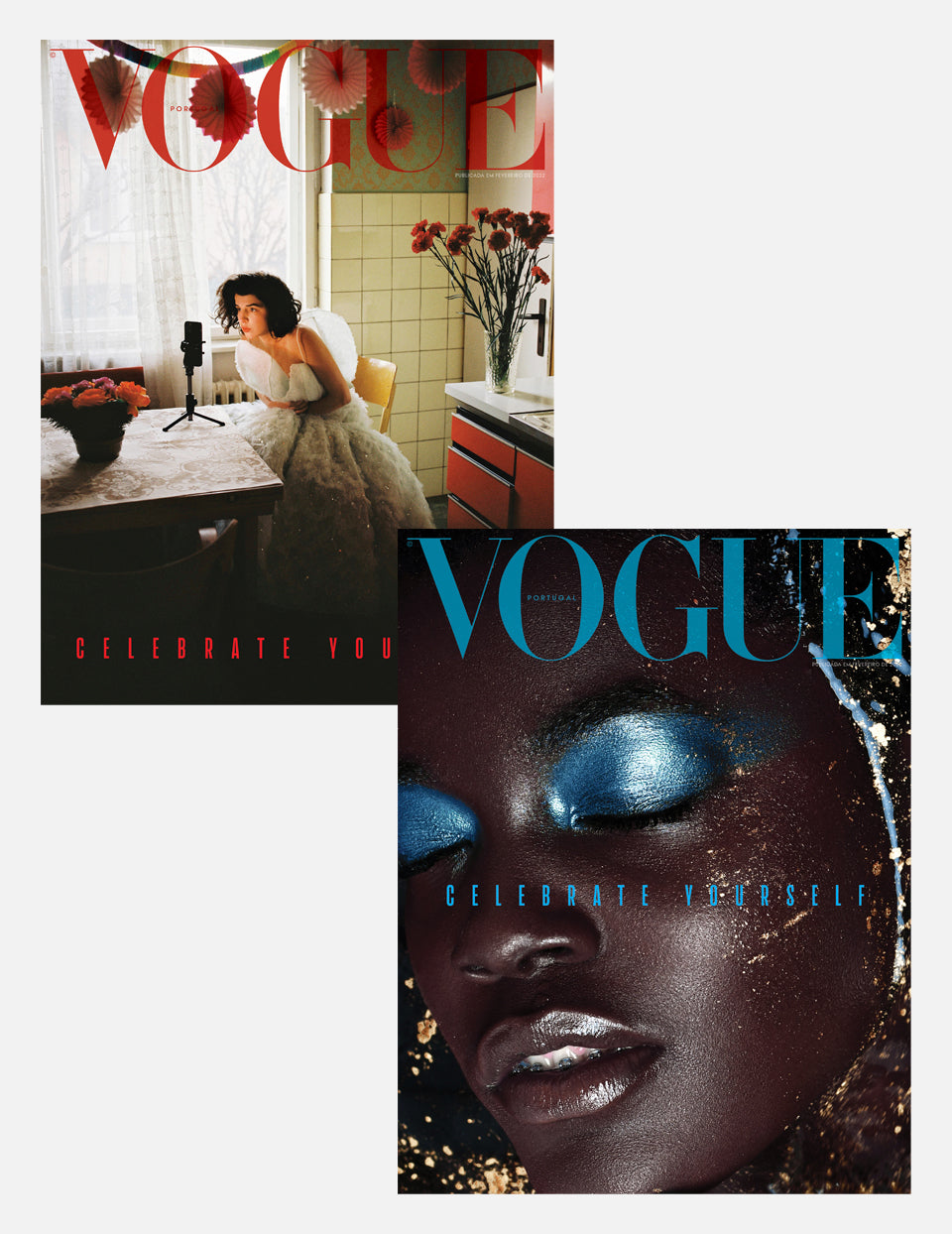 Shipping
Delivery rates are calculated at checkout based on order weight, size and value. 
Free shipping applies to:
Portugal (mainland and islands) and Spain mainland on orders over €20.
Not available to subscriptions. 
Alternatively, we offer free Click and Collect for those based in Lisbon.

We ship worldwide. If there are no available shipping rates for your address, please contact us.
-- PT --
Custos de envio calculados no checkout, baseados no peso, volume e valor da encomenda. 

Portes grátis para: 
Encomendas de valor superior a 20€ para Portugal (continente e ilhas) e Espanha continental.
Não aplicável nas subscrições. 
Em alternativa, oferecemos recolha gratuita em Lisboa, na nossa loja.

Fazemos envios para todo o mundo. Se não conseguir enviar para a sua morada, por favor contacte-nos.