Regular price
€350,00 EUR
Regular price
€0,00 EUR
Sale price
€350,00 EUR
Unit price
per
Sale
Sold out
Product Inventory
loading..
The body, in all its shapes and sizes, is central to our march issue, in an homage to all types of silhouettes and celebrating its strength. The Body that nurtures and needs nurture, that+s full of love as well as endures pain - from everyday life, from heartache… even from an absurd war. When it comes to Body, there are many types, but only one essence: that of humanity. This issue of Vogue Portugal celebrates differences as much as equality and, at the same time, doesn't shy away from current events. We are all different (some)bodies, but equal in our core and common goals. Those of Peace, Freedom and Inclusion.
----
O corpo, em todas as suas figuras e feitios, serve de tema central a uma edição que homenageia todas as silhuetas e a sua força. Esse corpo que acarinha e é acarinhado, que se enche de amor e suporta a dor - das vicissitudes da vida, dos desgostos… até de uma Guerra. No que diz respeito ao corpo, há muitas silhuetas, mas só uma essência: a do ser humano. Nesta edição da Vogue Portugal, celebram-se as diferenças tanto quanto a igualdade num número que, ao mesmo tempo, não fecha os olhos aos eventos mundiais. Porque somos corpos diferentes, mas todos iguais na essência e objetivos comuns: da Paz, da Liberdade e da Inclusão.
What's in the box:
- Vogue Portugal The Body Issue - Cover 3;
- Four original offset metal printing plates from the four-colour reproduction process. (Cyan, Magenta, Yellow and Black) of the cover.
Additional information
- Original offset metal printing plates from the four-colour (CMYK*) reproduction process
- Signed by editor in chief Sofia Lucas
*Cyan, Magenta, Yellow and Black.
Metal cut plates may be dangerous. Please handle with care.
English version available on all articles through QR codes
Shipping information
Share
View full details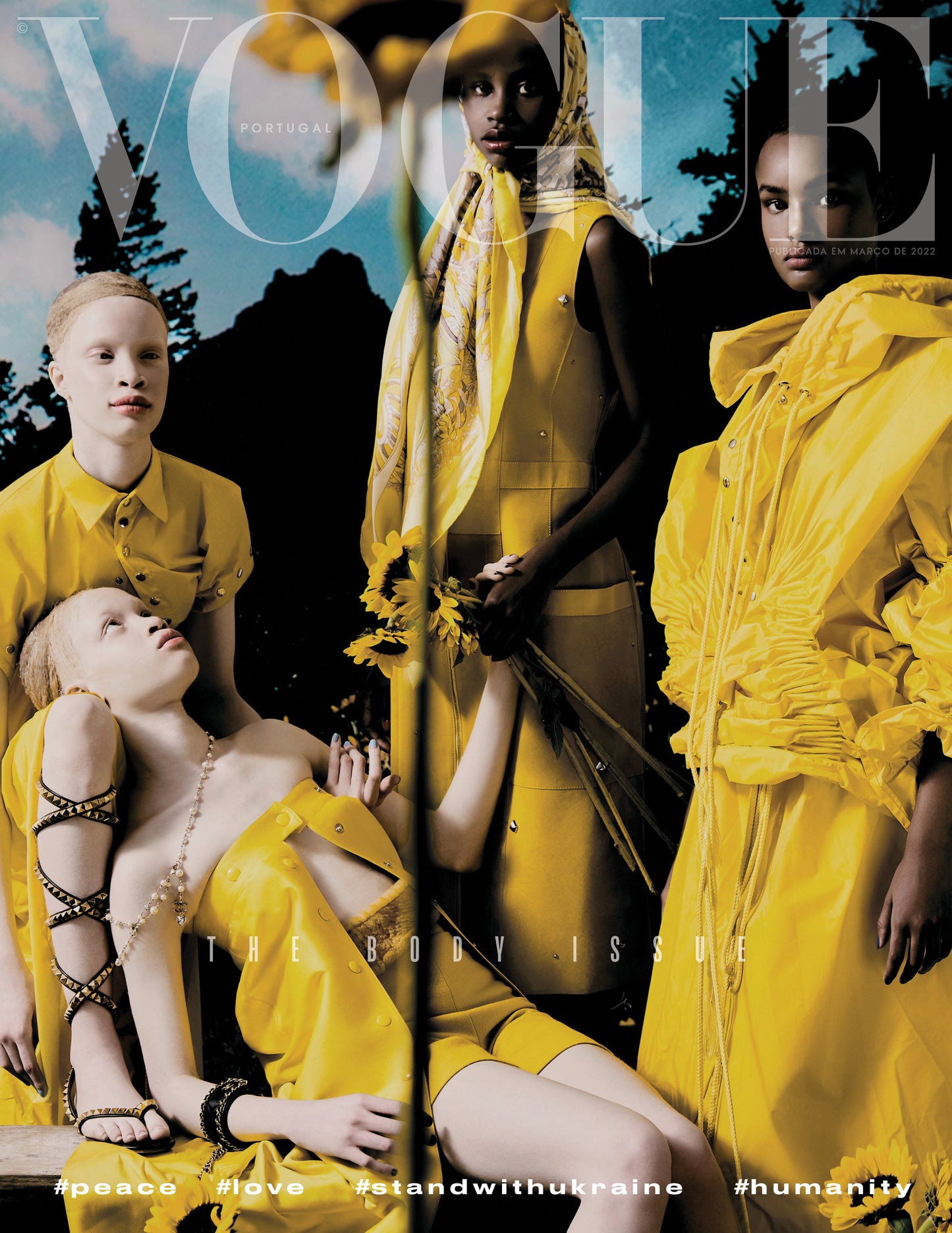 Shipping
Delivery rates are calculated at checkout based on order weight, size and value. 
Free shipping applies to:
Portugal and Spain mainland on orders over €15.
Alternatively, we offer free Click and Collect for those based in Lisbon. 

We ship worldwide. If there are no available shipping rates for your address, please contact us.
-- PT --
Custos de envio calculados no checkout, baseados no peso, volume e valor da encomenda. 

Portes grátis para: 
Encomendas de valor superior a 15€ para Portugal e Espanha continentais. 
Em alternativa, oferecemos recolha gratuita em Lisboa, na nossa loja.

Fazemos envios para todo o mundo. Se não conseguir enviar para a sua morada, por favor contacte-nos.